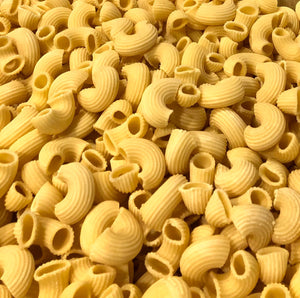 Lumache is a classic "snail" shape of pasta, perfect for your hearty ragouts, veggie sautés, and even your thinner sauces, broths, or pestos.  This pasta is vegan-friendly, but not gluten-free.  Sold by the pound.
Dried Pastas can be stored for up to 12 months from manufacture.
Ingredients: Organic Semolina Flour, Water
Note: Delivered in a paper bag.  We recommend moving to a sealed container for longer lasting freshness.
From Mill Valley Pasta Company, San Rafael, CA
https://www.millvalleypasta.com