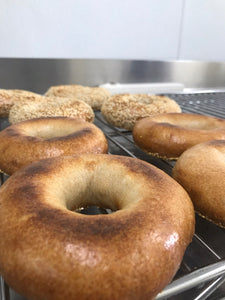 Bagels!  Glorious bagels!  Fresh, organic, 100% naturally-leavened bagels!  These are the real deal, folks… boiled, East Coast style.
Sold as a 6-pack, plain or assorted.  Assorted variety includes plain, sesame seed, poppyseed, and everything (sesame, poppy, fennel, Maldon salt).
Ingredients: organic white flour, water, organic sourdough starter, organic dark rye flour, organic eggs, organic canola oil, low-diastatic malt powder, salt.
ALWAYS made the day of delivery!
Note: Delivered in a paper bag.  If not consumed the same day, we recommend moving to a sealed container for longer lasting freshness.
From Zweibel's, Santa Rosa, CA.