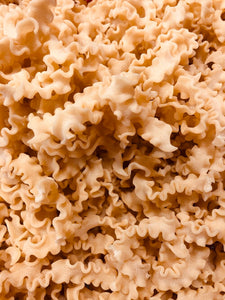 These short wavy ribbons are made on the same die as the Mafaldine pasta that is heralded by so many as one of the best.  Meaning "squiggle" in Italian, Scarabocchio are short ( approximately 2" pieces) compared to their Mafaldine cousins, yet they maintain the look, texture, and absolute appeal.  Use the Scaraboccchio for your favorite pasta dish (warm or cold in a salad).  Pasta is vegan, but not gluten-free.  Sold by the pound. 
Dried Pastas can be stored for up to 12 months from manufacture.
Ingredients: Organic Semolina Flour, Water
Note: Delivered in a paper bag.  We recommend moving to a sealed container for longer lasting freshness.
From Mill Valley Pasta Company, San Rafael, CA
https://www.millvalleypasta.com