Why Go Waste-Free?
Over 32 million tons of waste goes to landfill and over 72 billion pounds of food go to waste each year. Aiming to go waste-free means helping our planet and wildlife heal,  having a cleaner environment for future generations, living a healthier and more mindful lifestyle, and even helping your wallet.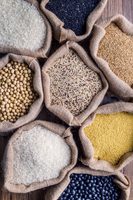 Our Products
We work with local farmers and ranchers to source organic, non-GMO foods.
Before COVID-19, we set up shop at farmers markets and enabled use of circular packaging options.  To help #flattenthecurve, we moved to a contact-free delivery-based system covering the entire Bay Area: from Sonoma County to Santa Clara County.
Order for Delivery
Featured collection - pasta!