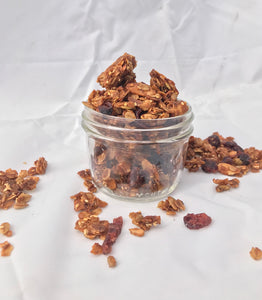 Delicious, organic golden granola (crunchy, seedy, nutty)!  Sold by the pound.
Ingredients: Organic rolled oats, pumpkin seeds, organic sunflower seeds, organic coconut flakes, organic sesame seeds, organic flaxseed, organic honey, organic brown sugar, organic coconut oil, salt, organic nuts, organic dried fruit.
Note: Delivered in a paper bag.  If not consumed the same day, we recommend moving to a sealed container for longer lasting freshness.
From Zweibel's, Santa Rosa, CA.