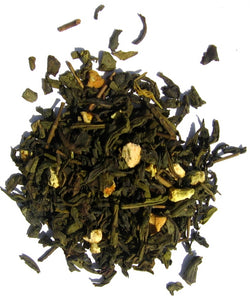 Soothing jasmine with orange oils and orange peel.  Also makes a great iced tea!

Jasmine tea possesses amazing jasmine flavor and fragrance coupled with a rich green tea base. Jasmine tea gets its elegant flavor by placing the leaves in close proximity to jasmine flowers where they absorb the jasmine's light and flowery characteristics.  Caffeinated.  Certified organic by CCOF.  Sold by the ounce.
Ingredients: Organic jasmine tea, organic orange peel, + non-GMO natural flavor.
Note: Delivered in a paper bag.  We recommend moving to a sealed container for longer lasting freshness.
From Tea & Trumpets, Santa Rosa, CA