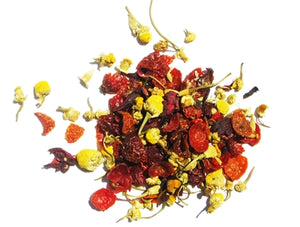 An excellent and relaxing tea!  Chamomile has long been known to help with sleep or calm an upset stomach, but the flavor of pure chamomile leaves something to be desired.  That's why we added rosehips and hibiscus flowers to create a refreshing, sweet, and slightly tart blend.  Not to mention hibiscus' and rosehips' plethora of health benefits.  Try over ice for an amazing iced tea experience.  Caffeine free.  Certified organic by CCOF.  Sold by the ounce.
Ingredients: Organic rosehips, organic hibiscus, organic chamomile, organic rooibos, + non-GMO natural flavors.

Note: Delivered in a paper bag.  We recommend moving to a sealed container for longer lasting freshness.
From Tea & Trumpets, Santa Rosa, CA