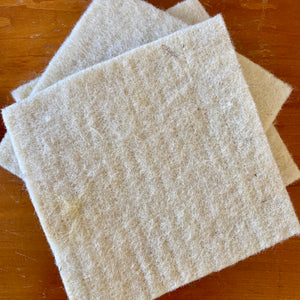 Use these climate-beneficial wool sponges to do the dishes, wash your face & body, or clean surfaces.  Clean and durable, these sponges do not get gross or smelly and last for a long time.  We generally get 6 months out of our sponges!  Because wool is naturally antimicrobial and antifungal, they do not harbor molds and bacterias.  When you're done with them, they are compostable!

Care:
Rinse with warm water, squeeze out, and lay flat to dry. Use soap for stains.  You can put them in the dishwasher but not the laundry machine.  Sun is a natural sanitizer of wool.  These sponges are made of 100% wool and thus will shrink with initial use.  Please do not cut them, they will shrink down to the size of a regular sponge, and get a bit more scrubby over time.
Made by Full Circle Wool (Potter Valley, CA) from pasture-raised sheep on carbon-neutral ranches in Northern California.   
Find out more at www.fullcirclewool.com.