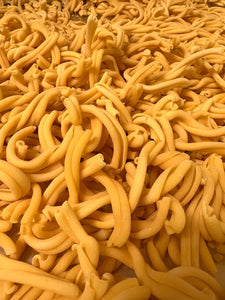 Yes, they did it!  Mill Valley Pasta Co. made a dried gluten-free pasta!  This pasta is made with gluten-free ingredients, but in the same kitchen, and on the same equipment, as their wheat-based pastas.  And while MVPC cleans everything down before making the GF pasta, there is the potential for cross-contamination, thus it is not intended for consumption by those with allergies or significant sensitivities to gluten.
This pasta is vegan friendly AND gluten-free!  Sold by the HALF POUND.  Please note that this gluten-free pasta is much more fragile and prone to breakage than the wheat-based pastas.  Because of this, we recommend handling gently.
Dried pastas can be stored for up to 12 months from manufacture.
Ingredients: Local Organic Pastured Eggs (from Silver Sky Ranch in Petaluma, CA), Cornstarch, White Rice Flour, Tapioca Starch, Brown Rice Flour, Milk Powder, Xanthan Gum
Note: Delivered in a paper bag.  We recommend moving to a sealed container for longer lasting freshness.
From Mill Valley Pasta Company, San Rafael, CA
https://www.millvalleypasta.com