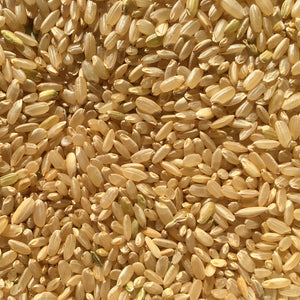 Chico Rice's Brown Milled California Japonica has the ultimate fresh and nutty flavor with a delicious fragrance and bold taste that will leave you craving more with every bite. The extra bran layer is packed with nutrition, keeping you fuller, longer.
Japonica is a medium grain rice originating from Japan that is extremely versatile and exhibits a sweet and complex flavor.  It is excellent for sushi and all Japanese and Korean dishes but is versatile enough for use in a risotto, stir fry, or any other rice dish, or even stand alone as a side!
Unique from many rice farmers, Chico Rice grows and mills on their farm.  
Most people don't realize that rice goes stale and rancid when stored too long. Their artisan rice mill allows them to mill exactly how much they want when they want, so we can get your rice to you as fresh as possible with the most flavor and the best texture.
100% CCOF and USDA certified and non-GMO.
Note: Delivered in a paper bag.  We recommend moving to a sealed container for longer lasting freshness.
From Sacramento Valley Rice Company, Willows, CA