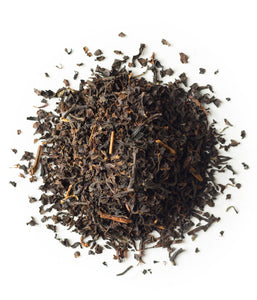 This English Breakfast contains an elegant blend of bold Indian Assam. The state of Assam experiences abundant rain during the monsoon period, as much as 10 to 12 inches of rain per day. The daytime temperature rises to about 103 °F (40 °C), creating a greenhouse effect of high humidity and heat. These extreme conditions contribute to Assam's unique malty taste, a characteristic for which this tea is well known.
Caffeinated.  Certified organic by CCOF.  Sold by the ounce.

Ingredients: 100% organic black tea

Steeping: Steep 2-3 teaspoons in freshly boiled water for 3-5 minutes.
Note: Delivered in a paper bag.  We recommend moving to a sealed container for longer lasting freshness.
From Tea & Trumpets, Santa Rosa, CA