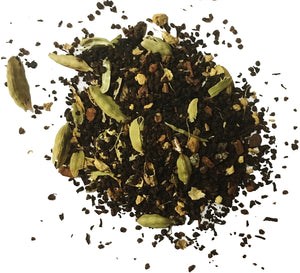 Tea & Trumpets' chai tea contains an elegant blend of organic tea and spices.  This infusion of premium black tea and exotic spices packs a powerful punch of flavor and is sure to jump start your day.  This chai is equally delicious whether served alone or with a creamer and sweetener.  For something extra sweet, try steeping it in heated vanilla almond milk (simmered).
Caffeinated.  Certified organic by CCOF.  Sold by the ounce.

Ingredients: Organic black tea, organic ginger, cinnamon, organic green cardamom, and vanilla.

Steeping: Steep 2-3 teaspoons in freshly boiled water for 4 minutes.
Note: Delivered in a paper bag.  We recommend moving to a sealed container for longer lasting freshness.
From Tea & Trumpets, Santa Rosa, CA