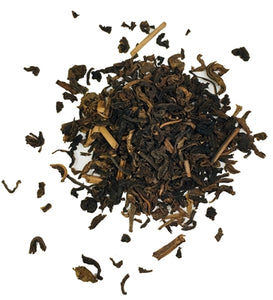 Now enjoy your favorite tea without the caffeine. Tea and Trumpets' Earl Grey makes the ordinary extraordinary. Sure…we've all tried Earl Grey tea, but not like this. We sourced the freshest bergamot oil we could find and paired it with an incredibly smooth decaffeinated Indian black tea. Each sip possesses a well-rounded burst of elegant citrus flavor. Excellent served as-is, or with creamer + sweetener.  Certified organic by CCOF.  Sold by the ounce.
*All of our decaffeinated teas are decaffeinated using carbon dioxide, the only certified organic method. This process maintains tea flavor and antioxidant levels.

Did you know...
Earl Grey tea is believed to be named after the 2nd Earl Grey, British Prime Minister in the 1830's. Lord Grey received numerous diplomatic gifts of tea flavored with bergamot oil. The bergamot orange flourishes in Southern Italy.
Ingredients: Organic decaffeinated black tea, organic oil of bergamot.

Steeping: Steep 2-3 teaspoons in freshly boiled water for 2-4 minutes.
Note: Delivered in a paper bag.  We recommend moving to a sealed container for longer lasting freshness.
From Tea & Trumpets, Santa Rosa, CA