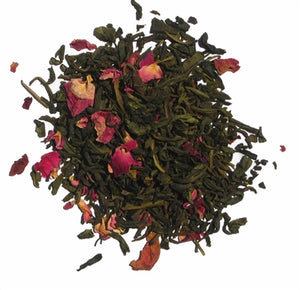 Tea and Trumpets' Jasmine Rose green tea begins with a premium Darjeeling green tea.  The leaves are then placed in close proximity to jasmine flowers where they absorb jasmine's light and flowery characteristics.  Lastly, the jasmine-scented tea is infused with sweet rose petals and flavors.  Caffeinated.  Certified organic by CCOF.  Sold by the ounce.

Ingredients: Organic jasmine tea, organic rose petals, + non-GMO natural flavor.

Steeping: Steep 2-3 teaspoons in 160° water for 2-3 minutes.  When making Jasmine Rose, it is best to fill your cup a quarter full with room-temperature water before adding boiling water. This will bring the water temperature down and result in amazing tasting tea!  
Note: Delivered in a paper bag.  We recommend moving to a sealed container for longer lasting freshness.
From Tea & Trumpets, Santa Rosa, CA