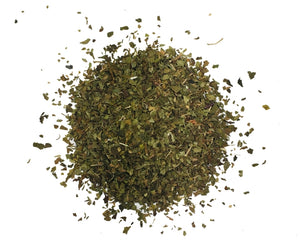 A refreshing and cooling blend of green tea and spearmint.  Excellent hot or iced.  Preparing this tea is considered a high honor in parts of the Middle East and is usually performed by the head of the household.  Certified organic by CCOF.  Sold by the ounce.
Ingredients: Organic green tea, organic spearmint.
Note: Delivered in a paper bag.  We recommend moving to a sealed container for longer lasting freshness.
From Tea & Trumpets, Santa Rosa, CA