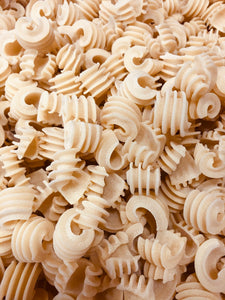 Radiatore means little radiators, and these little flanged pastas are perfect for your pasta salads, pasta bakes, and any pasta that has a thicker sugo, thinner brodo, or a pasty condimento.  Wait.  That's all the sauces.  Okay, we're making it official right here, right now - this pasta is perfect for anything!  This pasta is vegan friendly, but not gluten free.  Sold by the pound.
Dried pastas can be stored for up to 12 months from manufacture.
Ingredients: Organic Semolina Flour, Water
Note: Delivered in a paper bag.  We recommend moving to a sealed container for longer lasting freshness.
From Mill Valley Pasta Company, San Rafael, CA
https://www.millvalleypasta.com