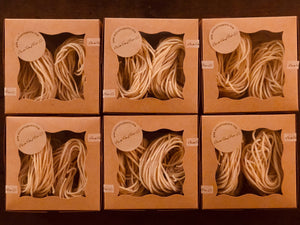 [picture shows spaghettoni in plastic-window packaging… spaghettoni ordered from the silo will be delivered in a paper bag, sans plastic window]
This is the thicker spaghetti you've been waiting for!  Extra toothsome to stand up to your bologneses and your amatricianas; your pestos and your sugos; your caccios and your brodos; and your marinaras and your alfredos.  4 Nests per order.   Approximately 13.5 oz.  This pasta is vegan friendly, but not gluten free.
Dried pastas can be stored for up to 12 months from manufacture.
Ingredients: Organic Semolina Flour, Water
Note: Delivered in a paper bag.  We recommend moving to a sealed container for longer lasting freshness.
From Mill Valley Pasta Company, San Rafael, CA
https://www.millvalleypasta.com