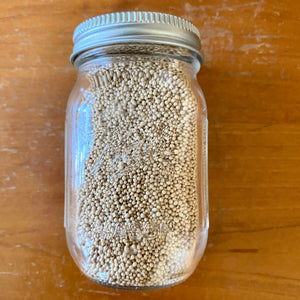 Fleishmann's Dry Active Yeast comes in a 4-ounce jar.  Equals 12 individual yeast packets.
Yeast is a living microorganism in the fungi family that feeds off of carbohydrates or simple sugars.  As it feeds, it kickstarts fermentation, releasing carbon dioxide that expands gluten proteins, causing dough to expand and rise. 
Yeasts are everywhere — naturally found in soil, on plants and even in the air. While there are many strains of yeast, Fleischmann's® Yeast is Saccharomyces cerevisiae. This is the most common yeast used in baking.
100°–110°F is the ideal temperature for Active Dry Yeast.
Keep opened jars in the fridge for up to four months.